Hotels
The following hotels are valued partners of the Jersey International Masterclasses, and we are very grateful to them for the discounted rates they have been able to provide for us. They are located in very close proximity to each other near Havre des Pas in the cosmopolitan town of St. Helier.

Breakfasts: The rates below include a full cooked English breakfast, and there is also the option to extend this to include dinner with a Half-Board supplement.

Booking: When contacting these hotels to book your room please quote 'Jersey International Masterclasses' to have access the special rates below. Please note that these special rates are subject to availability, and therefore you are strongly advised to book early.

Shared Rooms: Please note that when booking shared rooms all names must be given to the hotel at the time of booking. However, for those students who wish to have shared accommodation in single-sex rooms (either in twins or triples) but do not have anyone in particular to share with then please submit your name and choice of hotel to us, and we will do the booking on your behalf (subject to availability).
Runnymede Court Hotel
An immaculate Edwardian 2 Star Hotel on the Town outskirts and only 250 yards from the Beach, Promenade and Bathing Pool at Havre des Pas. The Hotel has 57 well appointed rooms, a bright airy Dining Room overlooking the beautiful garden, a Reception and comfortable Bar looking over the Sun Terrace and a T.V Lounge. All rooms are en suite and are well presented with new flat screen T.V.s, Tea and Coffee Facilities, Direct Dial Telephones and Free Wi Fi.
46-52 Runnymede Court,
Roseville Street,
St Helier,
Jersey,
JE2 4PN

Tel: 0(044) 1534 720044
E-mail: runnymede@troysleisure.com
Web: www.runnymedejersey.com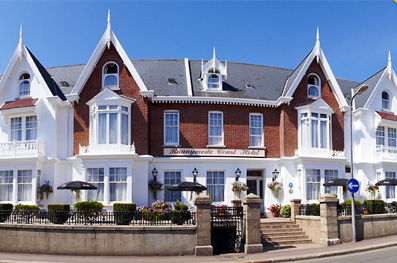 As it is the busy summer season, early booking is essential, and should the hotel become fully booked there are four other accommodation possibilities on the same road:

Alhambra Hotel - 0(044) 1534 732128 - alhambrahotel@hotmail.com - www.alhambrahotel.net
Fairholme Guest House - 0(044) 732194 - fairholmejersey@gmail.com - www.fairholmejersey.com
La Bonne Vie Guest House - 0(044) 1534 735955

There are also a wide range of alternative hotels and guest houses in the Havre Des Pas area:

Ommaroo Hotel - 0(044) 1534 723493 - reservations@ommaroo.com - www.ommaroo.com
Hotel De Normandie - 0(044) 1534 721347 - reservations@channelhotels.com
Maison Chaussy Guest House - 0(044) 1534 723836 - www.maisonchaussey.com
Marina Metro Hotel - 0(044) 1534 724519 - www.marinametrojersey.com
Lorraine Guest House - 0(044) 1534 720950 - www.lorrainejersey.com
Bayview Guest House - 0(044) 1534 720950 - www.bayviewjersey.com
Fort D'Auvergne Hotel - 0(044) 1534 873006 - bookings@morvanhotels.com - www.morvanhotels.com
De L'Etang Guest House - +44 01534 721996 - deletang@jerseymail.co.uk - www.deletang.je